Improving our process is something we always want to strive for. If you learn exploitable treads each offseason, you'll return the following season as an improved fantasy player.
A couple of days after I wrote Part 1 of Finding Superstar Receivers, I was sifting through Twitter and saw a tweet from Fusue Vue explaining the importance of weight for wide receivers to become perennial stars.
Jerry Jeudy's upside simply isn't that high due to size. Here are all players with multiple "1,200 receiving yard" seasons for WRs 6'1"+ since 2009.

First pic are those 210+ lbs. The second are less than 210 lbs. pic.twitter.com/BOnHNdmbVh

— Fusue Vue (@lifesyourcup) June 29, 2019
13 of the 14 players since 2009 to have multiple 1,200 yard receiving seasons weighed 210 lbs or more. This forced me to return to my study and add weight as a component to see if we could increase our hit rate. To filter through the players, I use the always excellent ProFootballReference, which provides awesome tools to be able to find historical comps.
Below is the final list we ended with.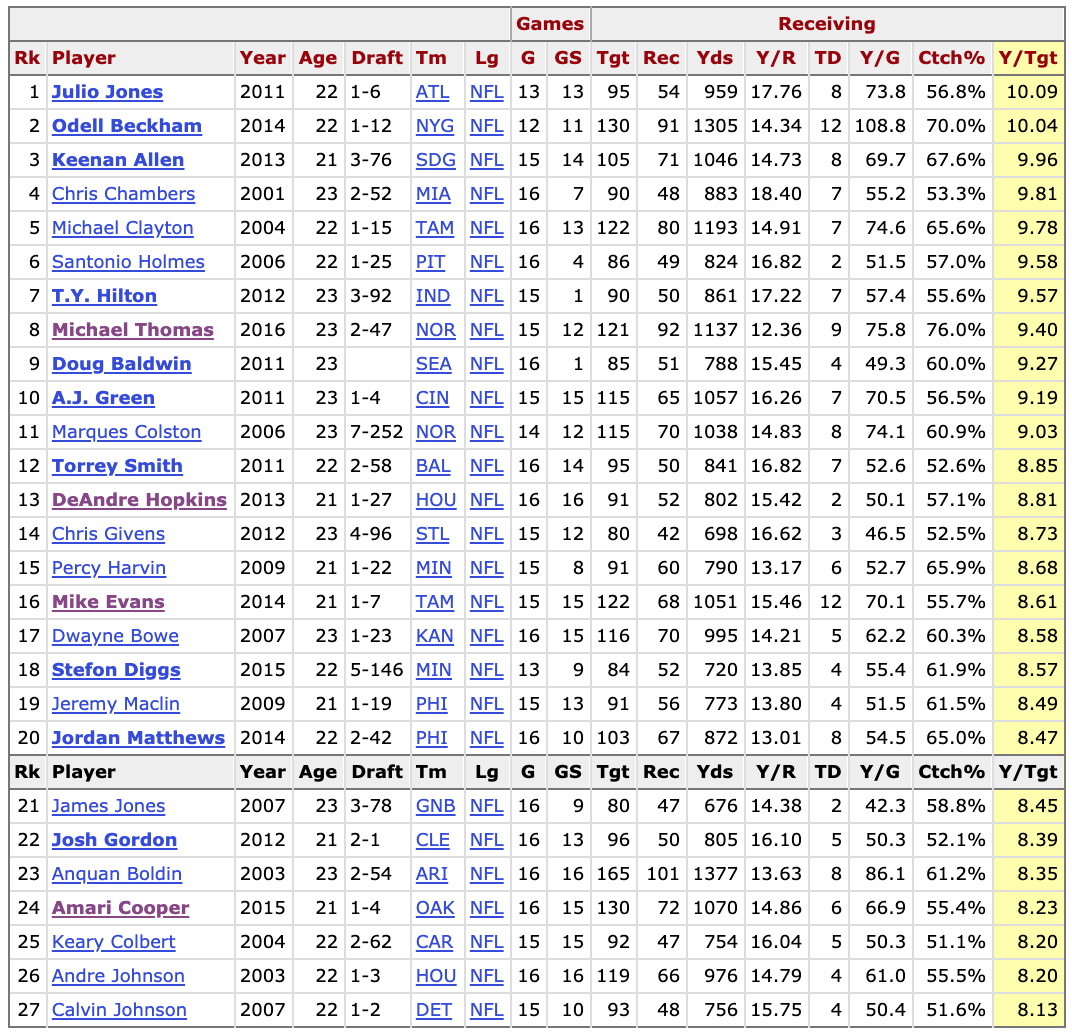 15 of 27 players hit multiple WR1 seasons (56%)
20 of 27 players hit at least one WR1 season (74%)
25 of 27 players had at least one season over 200 PPR points
This hit rate is fantastic and actionable. Regardless, let's see what happens when we filter this by players who weigh 210 pounds or more.
Filtering To WRs Who Weigh 210 Pounds
10 of 15 WRs had multiple WR1 seasons (67%)
14 of 15 WRs had at least one WR1 season (93%)
14 of 15 WRs had multiple seasons over 200 PPR points (93%)
15 of 15 WRs had at least one season over 230 PPR points (93%)
With this variable, the hit rate soars. Pretty incredible and important to add weight here as if a player hits these thresholds they are close to a guarantee to become a fantasy WR1 with a high probability to become a perennial WR1.
The Future
Let's see who in the 2017-2019 draft classes qualifies and why we should be doing everything in our power to acquire these following players.
According to the study, these are the future superstars we need to be drafting in both dynasty and redraft leagues in 2020.
We only averaged one rookie per season to hit these marks since 2000, but we see an incredible four who qualified in the 2019 draft class. Players who hit the thresholds to qualify for this group have a very high probability of becoming cornerstones to your teams for years.
If you haven't already, add this examination to your process each season. With so many excellent wide receivers in the 2019 and 2020 draft classes, fantasy owners should be exercises like this to filter through the potentially game-breaking prospects.
Thanks for reading! I hope you learned something new and insightful just as I did. If you enjoy this type of content you can follow me on Twitter @DaltonGuruFF.