This article aims to improve the process of evaluating potential breakout second-year wide receivers.
Backstory
About a year ago I started playing around on Pro Football Reference to try and find an edge in valuing the 2018 rookie WR class. PFR is an excellent resource that allows you to filter players using key variables. I recently messed around with efficiency metrics, mainly yards per target (YPT), and found fascinating, actionable results.
I noticed that many former and current NFL studs were very efficient in their rookie season. I started playing around to see where there was a noticeable difference in successes versus failures. That led to the theory that if a receiver had eight or more YPT as a rookie they had a much higher likelihood of achieving star status as a WR in the NFL.
Many of the rookie receivers in the 2019 draft class hit the threshold this season despite entering the NFL with many different types of profiles. If we can start to see where these rookies stand in a historical context, we may be able to find out how likely they are to become stars.
My goal is to simplify the process of finding impending superstars at the receiver position. Since there are very few consistent WR1s each year, I want to make sure that the thresholds we are looking for are exclusive.
Definition of Success
A "success" will be defined as two or more WR1 (top 12) seasons. Over the past 20 seasons, the average WR12 has scored roughly 245 PPR points so we will use that as the cut-off.
How Often Do Rookies Qualify?
Below is a list of all rookie wide receivers with more than eight YPT and 60 targets from 2000-2019.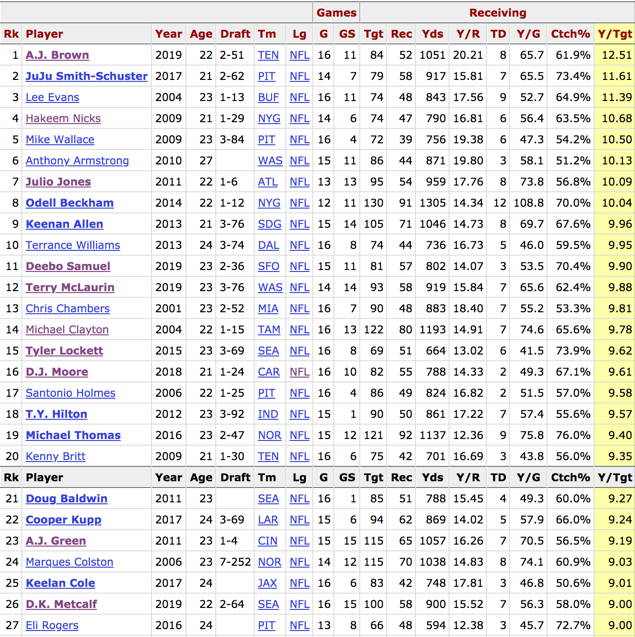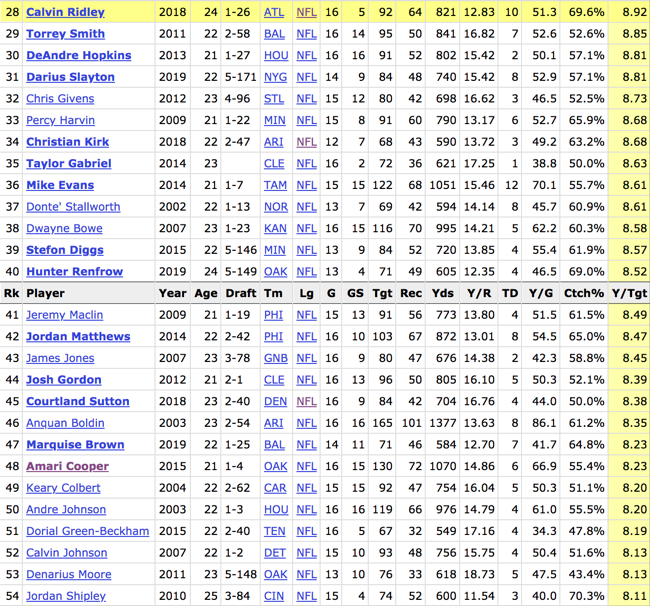 This equates to roughly 2.75 rookies per year who qualify for this list. In the 2019 class, an incredible seven rookies made the cut.
Re-Categorizing
Within the first five years of a career, you can generally get a good idea of if a player is a star in the league or not. Under this premise, we'll include rookie classes from 2000 to 2015 to see who the successes are.
Our first group includes 38 players drafted between 2000 and 2015 that reached eight or more YPT as rookies.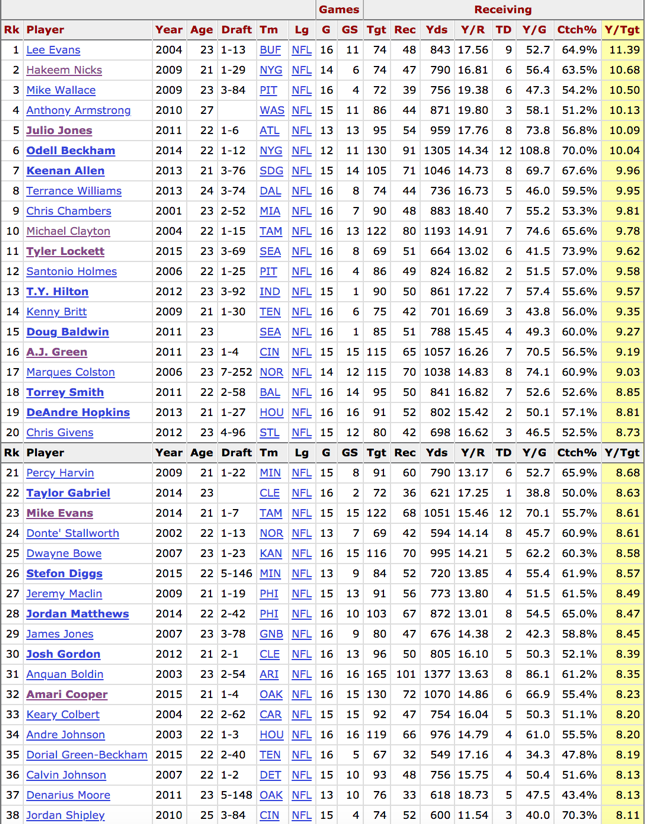 14 of the players have had two or more WR1 seasons (37%)
22 of the players have had at least one WR1 season (58%)
Of the 22 players, they have averaged 2.5 WR1 seasons
If we know that 58% of rookie WRs that have at least 60 targets and eight YPT have at least one WR1 season, this is a pretty promising conclusion.
Younger Players With High Draft Capital
Let's start to see if we can start to see similarities in these successes.
If we filter the list to only include players who played their rookie season at 23 or younger and were drafted in the top three rounds of the NFL draft. Let's see how our list is impacted, hopefully, we start to see an even better hit rate. Ten players are immediately eliminated, bringing our list to 28 players.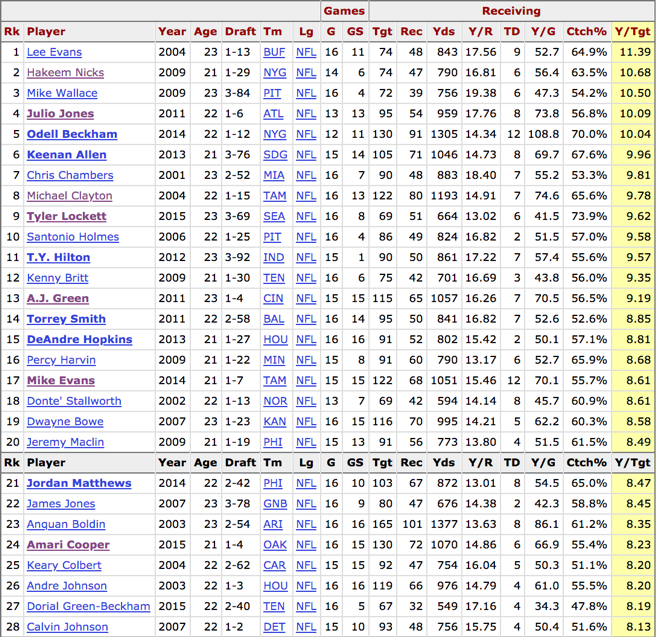 12 of 28 players have had multiple WR1 seasons (43%)
18 of 28 players have had at least one WR1 season (64%)
Now, what if we confine this list even further by increasing the minimum number of targets to 80?
Filtering For More Volume
By only including players with at least 80 targets, seven more players are eliminated from the list.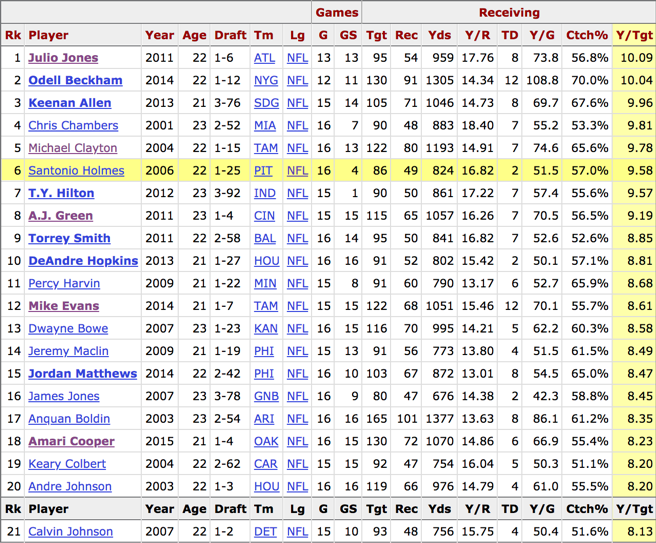 11 of 21 players have had multiple WR1 seasons (53%)
15 of 21 players have had a WR1 season (71%)
Increasing the volume makes our cohort even more successful.
Adding 2016 To the Study
We can make this a little more fun if we expand the list to 2016 and add Michael Thomas to this group.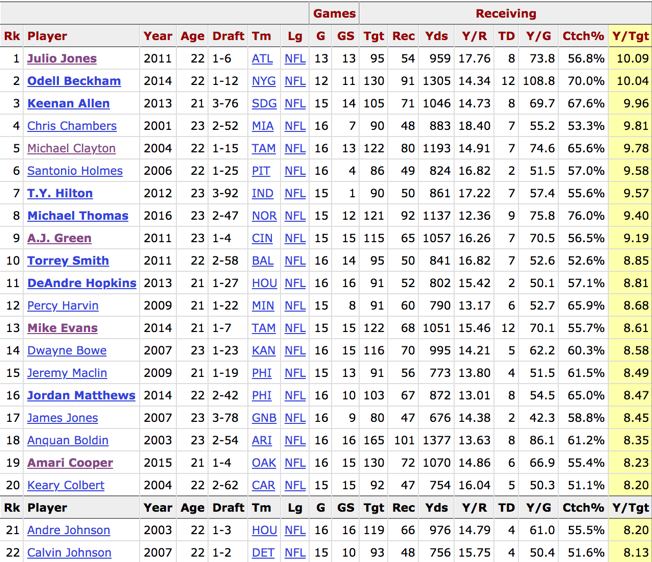 12 of 22 players have had multiple WR1 seasons (55%)
16 of 22 have had a WR1 season (73%)
It's important to note that the players who achieve a WR1 season are more likely to do it again. For the receivers that "hit" a WR1 season, they have averaged 3.2 WR1 seasons in their career.
Even though this list is very impressive from a pure WR1 standpoint, most of the "fails" still had very good seasons to their name. Only one player on this entire list failed to put up a 200 point PPR season (Keary Colbert) and players such as James Jones, Santonio Holmes, and Jordan Matthews were within 20 points of qualifying for a WR1 season.
What about those WR1s that we filtered out earlier in the process? Is there a way for them to still be in this group without hurting the success rate? There is.
Volume Without High Draft Capital
For this cohort, we will continue to exclude players older than 23 during their rookie season, only include players with at least 80 targets and then remove draft position requirements. That allows Stefon Diggs, Doug Baldwin, and Marques Colston to be added to this list. This modification also gives us another clear "fail" in Chris Givens.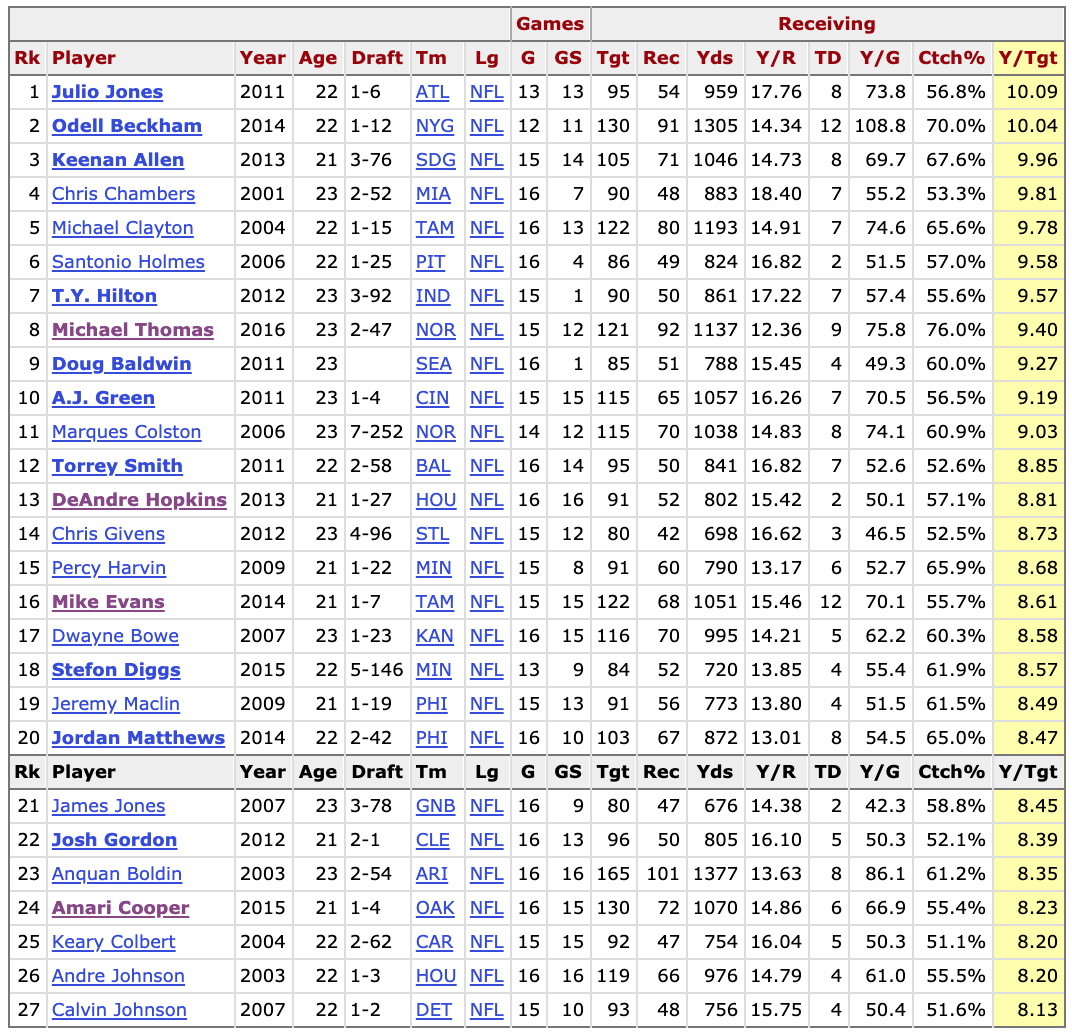 15 of 27 players have had multiple WR1 seasons (56%)
20 of 27 players have had at least one WR1 season (74%)
25 of 27 players have had at least one season over 200 fantasy points (93%)
While the hit rate stays about the same, it's good that the sample size increased without reducing the hit rate. It's clearly valuable to know that rookie wide receivers who average at least eight yards per target have a 74 percent probability of achieving a WR1 season and a 56 percent chance of multiple WR1 seasons.
The Future
If this included all qualifying receivers from 2000 to 2016, who are the players that have hit the thresholds since the 2017 draft?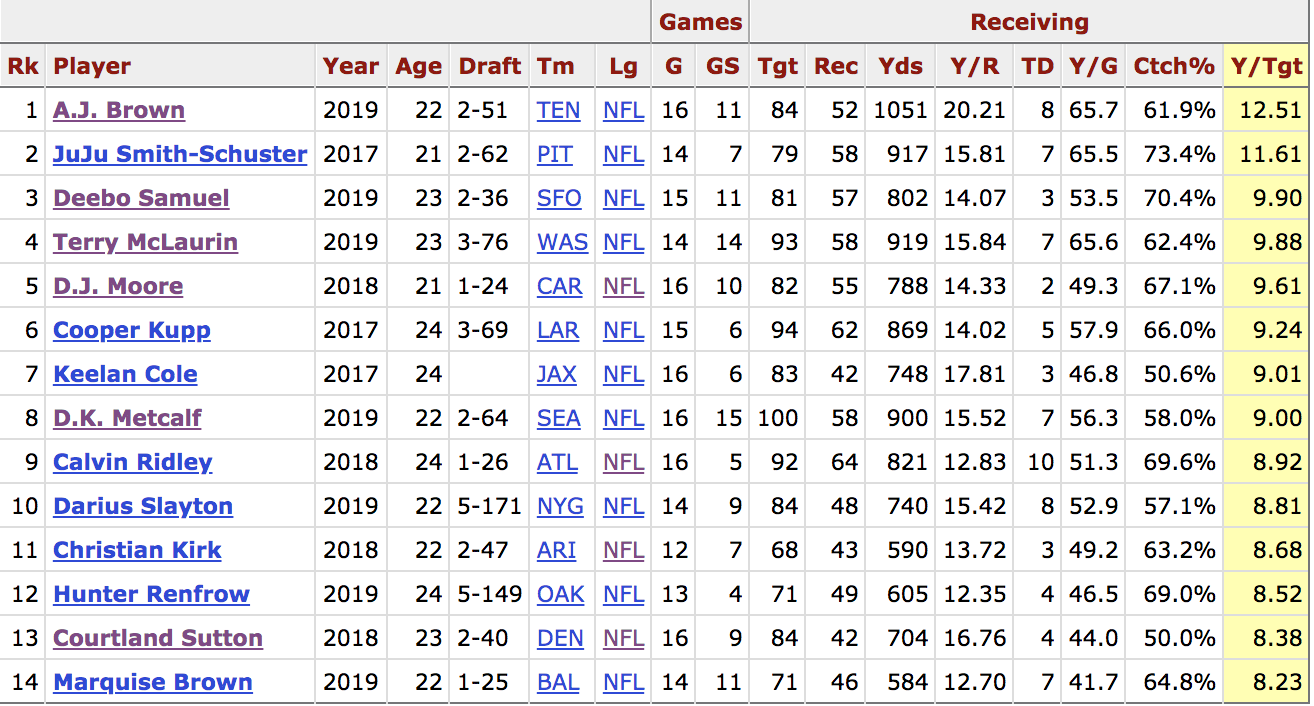 If we use the most basic requirements for this list, Cooper Kupp and JuJu Smith-Schuster already gave us WR1 seasons. Calvin Ridley had a promising season come to an end in Year 2 but remains an encouraging WR1 candidate. Keelan Cole regressed after an impressive first season.

If we filter to all players under 23 who were drafted in the first three rounds then our list gets smaller. Christian Kirk and Marquise Brown are players who show up here but do not hit the 80-target threshold. Remember Kirk would have surely qualified had his season not been cut short by injury.
Note that 64% of players in this group hit a WR1 season and 43% had multiple WR1 seasons. It's still a good time to potentially buy low on Kirk heading into Year 3.
Brown's production in Year 1 is indicative of a player who will see an increase of opportunities in his second season. He remains a nice buy heading into Year 2.

As we can see this is a very exclusive group of rookie receivers.
Obviously, in hindsight it's easy to assume DJ Moore and Courtland Sutton are the top two receivers from the 2018 class. Both just missed the WR1 threshold this year, but entering the year, Sutton was being drafted fourth among second-year receivers. Knowing this about his rookie year would have screamed at him being an undervalued player heading in fantasy drafts.
Even though Sutton and Moore had awesome years, they both still wouldn't even qualify as a "hit" according to this study. Had Moore finished his game in Week 16 or played Week 17, he likely would have qualified. Sutton was still roughly 30 points away from qualifying which may suggest that better seasons are ahead for both players.
The 2019 rookie class has been historic by all accounts. No rookie WR class has as many qualifiers on this list as 2019. While AJ Brown is deservedly getting the most hype and should turn into a perennial WR1, Deebo Samuel and Terry McLaurin have been wildly successful in their own right.
Both will likely have inflated average draft positions (ADPs) come August, but according to this study, there's a solid probability they have some massive seasons ahead of them. Their age makes them volatile but they possess the potential to see a big jump in scoring, which is rarely found in older players.
Obviously, with DK Metcalf breaking the rookie record for receiving yards in a playoff game, his price is soaring. Regardless, the study indicates he is a very good buy heading into Year 2.
The most surprising name on this list was Darius Slayton. He was a kind of off-the-radar/combine hero as a prospect but impressed as a rookie, quietly scoring 170 PPR points in an efficient manner. His draft position makes him a little riskier as all the other rookies on the list were clearly more coveted players. Drafters may think of him as an afterthought, but this clearly shows he has WR1 potential in the future. He could be a semi-cheap dynasty trade target this offseason and a nice late-round receiver target in 2020 drafts.
If and when rookies are able to be efficient in the face of volume, they tend to have very successful NFL and fantasy careers. Remember, efficiency is predictive of future opportunities and future PPR scoring. While rookie receivers are generally overvalued, receivers most frequently break out in Year 2.
These are the players we should be targeting in both redraft and dynasty leagues as they could become undervalued assets even with inflated price tags. I learned a lot more than I thought I would when starting this study out, but I'm amazed by how we can increase our probability of finding future stars with YPT.
I was able to increase the hit rate in Part 2 of this article. Find out what variable helps increase the hit rate.
I hope you guys enjoyed and learned as much as I did. If you enjoy this type of content, follow me on twitter at @DaltonGuruFF.