Last week I took an in-depth look at how experienced fantasy football owners can benefit from keeping kickers on fantasy rosters. The evidence suggests that Apex owners that waited until the last round to draft their kicker saw a marked advantage over owners that took a kicker early.
For reasons similar to the theory on kickers, many fantasy football experts advocate waiting to draft a defense/special teams (D/ST) until as late as possible (the 2nd to last round, as we should be taking a kicker last). Proponents of fantasy football leagues that emphasize skill have went as far as arguing that D/ST should be eliminated all together, and some major daily fantasy sites have already eliminated both K and D/ST from their rosters.
To get an idea of how Apex owners constructed their draft strategies, I looked at the same draft data for D/ST that I did for kickers. The obvious difference with D/ST, compared to kickers, is that we are assuming that the optimal round to draft your D/ST in Apex leagues is round 17, rather than round 18.
Apex 2013 D/ST Drafting Trends
| | |
| --- | --- |
| Number of Leagues | 15 |
| Number of Teams | 180 |
| Leagues w/ D/ST drafted Before Rd 17 | 15 |
| 1st D/ST Drafted Before Rd 17 | 136 |
| Teams Drafting > 1 D/ST | 39 |
| ADP of 1st D/ST taken | 97.73 (Pick 9.02) |
| Earliest Round D/ST Drafted | 4 |
The majority of Apex owners drafted their D/ST before the supposed optimal round 17, but a couple other numbers jumped out to me. 136 owners took, not a D/ST, but their first D/ST before round 17, and over 1 out of 5 Apex owners took more than 1 D/ST.
Using this data, we can make some preliminary assumptions that favor owners that wait until late in the draft to pick their D/ST; the early ADP of the first D/ST taken leaves better individual players in the draft pool for other owners, and owners that wait on D/ST get more opportunities to find late value because owners that pick D/ST early often take a second D/ST later.
In order to explore the potential value lost by taking a D/ST early, we will revisit opportunity cost as it pertains to fantasy football, looking at fantasy starters taken within 12 picks of the ADP of the first D/ST taken in 2013 Apex leagues.
| Player | Apex Position Rank | Times Drafted Between 9.03 and 10.02 |
| --- | --- | --- |
| Woodhead, Danny | RB12 | 9 |
| Cook, Jared | TE12 | 7 |
| Jeffery, Alshon | WR8 | 7 |
| Sanders, Emmanuel | WR32 | 7 |
| Cameron, Jordan | TE5 | 5 |
| Floyd, Michael | WR25 | 5 |
| Bennett, Martellus | TE10 | 4 |
| Gates, Antonio | TE9 | 4 |
| Romo, Tony | QB11 | 3 |
| Tate, Golden | WR30 | 2 |
| Wright, Kendall | WR20 | 2 |
| Allen, Keenan | WR18 | 1 |
| Dalton, Andy | QB4 | 1 |
| Jackson, Fred | RB11 | 1 |
| Roethlisberger, Ben | QB9 | 1 |
| Ryan, Matt | QB12 | 1 |
Within just one round of the first D/ST taken, on average, there were 60 Apex fantasy starters drafted across 15 leagues. The obvious counter-argument to the opportunity cost illustration is that owners who invested a mid-round pick on D/ST often received a safe, every week "plug and play" starter themselves. This is a shaky assumption.
Without getting into a supply and demand or Value Based Drafting study, both topics which have been widely discussed in the fantasy football community, we can simply look back to the D/ST draft trends for suggestions on the perceived instability of D/ST from week to week.
Recall that 39 out of 180 Apex owners decided to roster at least 2 D/ST via the draft, suggesting that owners either didn't have total confidence in their early D/ST investment, or they drafted two mediocre defenses. Whatever the reason, over 20% of Apex owners forfeited the chance of drafting a potential starting position player for what likely ended up being a wasted bench spot.
Taking opportunity cost a step further, we must consider the not-so-obvious example of the undrafted fantasy starter, and how early D/ST drafters effect (neglect) the waiver wire. When an owner invests a relatively early pick on a D/ST that they believe is an automatic, every week start, they're going to be much more hesitant to part ways with that pick than the owner that drafted their defense late and is planning to stream D/ST all season.
While the mid round D/ST drafter holds on for better or worse, they're leaving potential QB, RB, and WR starters unclaimed in the free agent pool for the D/ST streamers. To see how much potential value the "plug and play" D/ST drafter is leaving behind, let's look at the 2013 Apex point totals.
Average Regular Season Point Totals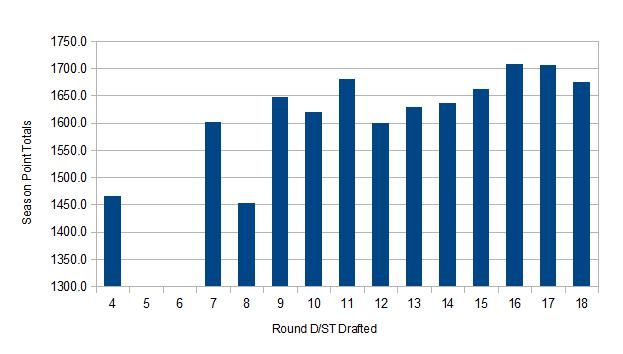 | | |
| --- | --- |
| Average Apex Team Point Total | 1621.3 |
| Average Points, D/ST Round 16 | 1706.7 |
| Average Points, D/ST Round 17 | 1706.1 |
| Average Points, D/ST before Round 16 | 1599.0 |
| Average Points, D/ST Rounds 4-15,18 | 1605.9 |
If you consider the depth of Apex rosters, it makes sense that drafting a D/ST in round 16 could be just as advantageous, if not more so, than round 17. In a more conventional fantasy structure, where rosters max out around 16 spots, there are likely still players that offer tangible value and upside in rounds 13 and 14, while a deep league is going to have a very depleted player pool after 240+ picks. Owners that chose their 1st D/ST with the 16th pick likely had a clear target for week one or wanted to avoid starting a bottom tier defense to begin the season.
The point remains, however, that owners who waited for their D/ST fared much better than the rest of league, to a point. We see a drop off in points from owners that waited until round 18 to pick their D/ST, compared to rounds 16 and 17. The explanation is simple. As the data indicated last week, if an owner took their kicker before round 18 they put themselves at a disadvantage. If the last pick of the draft was D/ST, then that owner didn't draft their kicker at the optimal time and their total points suffered.
Summary
Similar to kickers, but to a lesser extent, D/ST are perceived to have an inherent randomness when it comes to fantasy football output. While the experienced owner may or may not have a long term advantage over his competition when it comes to picking D/ST from week to week, he can take solace in the fact that novice players will make the error of taking a D/ST too early and holding them for too long, leaving behind valuable fantasy points for the D/ST streamers to pounce on.