One of the biggest petitions going in the fantasy football community is to eliminate the Kicker (and to a lesser extent, Defense and/or Special Teams) position(s) from fantasy rosters. They're hard to predict and add increased luck to an already high variance game. Well, I'm here to tell you,
"Embrace The Kicker!"
Now, before I go on with this love fest for the pink sticker on your draft board, this advice isn't for the fantasy football guru playing in an all expert league where every owner waits until round 18 to land Steven Hauschka. This is for the 99 percenters that round up 9 work buddies to throw in $100 on a redraft league. Even Mr. Guru probably still plays in a league with high school friends where most owners draft nowhere near optimally, so he should listen up, too.
I recently did a short interview for C.D. Carter's upcoming book, and we were discussing the parallels between the mental game of poker and that of fantasy football. This got me thinking of other concepts that translate from the felt to the virtual gridiron, and one idea that stood out to me was winning the battle of mistakes, a poker theory introduced by David Sklansky in his classic "No Limit Hold 'Em Theory and Practice".
The basic premise is that, as a poker player, we want to make small, infrequent mistakes, while our opponents often make large mistakes. In the case of picking a fantasy football league to play in, it might be a mistake for an experienced owner to play in a league that rosters kickers. If an owner has a true edge over his competition, introducing more luck to the game should diminish his advantage.
I'd argue, however, that a more savvy owner should consider a league that rosters the K, if they know that league will feature owners that will make huge blunders in the draft, namely, drafting a kicker before the last round. The advanced fantasy football player is making a small mistake by playing in a league with more luck, but he knows that he will win the battle of mistakes when one or more owners draft a kicker before (sometimes several rounds before) their last pick.
For most of us, we can pretty safely assume that at least one owner in our league will draft a kicker far too early, and in most leagues multiple owners will make this gaffe. This was apparent in Apex's inaugural season.
Apex Fantasy League Kicker Draft Trends
| | |
| --- | --- |
| Number of Leagues | 15 |
| Number of Teams | 180 |
| Leagues w/ K Drafted Before Rd 18 | 15 |
| Teams Drafting K Before Rd 18 | 115 |
| ADP of 1st K Taken | 138.7 (Pick 12.07) |
| Earliest Round K Was Drafted | 7 |
Every Apex league saw at least 5 kickers taken before round 18, and only 36% of owners waited until the last round to draft a kicker. On average, the 1st kicker in each league was drafted 6 rounds too early, assuming that it is optimal to wait until the last round. In order to make that assumption, however, we need some evidence that owners are losing value (and leaving added value on the table for other owners) by drafting a kicker early.
One way we can uncover the value of a draft pick is by looking at opportunity cost. In a recent numberFire article, JJ Zachariason takes an in-depth look at opportunity cost, but for this illustration his definition of opportunity cost is all we need.
"…fantasy football isn't just about the players you choose, but the players you don't choose as well. Opportunity cost is simply defined as the cost of an alternative that must be forgone in order to pursue a certain action."
Using the ADP of the first kicker taken in Apex leagues, we can get an idea of the alternatives that owners missed out on. With Apex draft data, I took a look at all 15 leagues to see which players were taken with the next 12 picks, and the value that owners missed out on, in terms of opportunity cost, by taking their kicker with pick 12.07.
Here are the players that finished as Apex fantasy starters at their position and were taken within 12 picks of 12.07.
| Player | Apex Position Rank | Times Drafted Between 12.08 and 13.07 |
| --- | --- | --- |
| Roethlisberger, Ben | QB9 | 6 |
| Bell, Joique | RB14 | 5 |
| Hartline, Brian | WR24 | 3 |
| Edelman, Julian | WR14 | 3 |
| Jackson, Fred | RB11 | 3 |
| Thomas, Pierre | RB16 | 2 |
| Wright, Kendall | WR20 | 2 |
| Stacy, Zac | RB20 | 2 |
| Thomas, Julius | TE3 | 2 |
| Gates, Antonio | TE9 | 1 |
| Moreno, Knowshon | RB4 | 1 |
| Cameron, Jordan | TE5 | 1 |
| Streater, Rod | WR33 | 1 |
| Bell, Le'Veon | RB15 | 1 |
No one can look at their preseason rankings and guess which of these late round players will become fantasy starters. What should be apparent though, is that owners that are using a 12th round pick on a kicker are giving themselves much less of an OPPORTUNITY to get a fantasy stud on the cheap. 
We see that there were 33 instances (over 2 per league) in which a fantasy starter was taken within just 12 picks of the ADP of the K1 in Apex leagues. This data doesn't even include the 4+ rounds still remaining after pick 13.08 where some Apex owners continued to find hidden fantasy gems. It should also be noted that I didn't mention players that finished on the fringe of being fantasy starters. Because Apex uses a flex spot, these fringe players that were passed up are also very valuable assets.
So far, I've shown what owners could miss out on by taking a kicker early, and that the majority of Apex owners do draft a kicker before the last round. Now I'll present evidence that the 60%+ of owners not waiting for their kicker are putting themselves at a disadvantage.
Average Regular Season Point Totals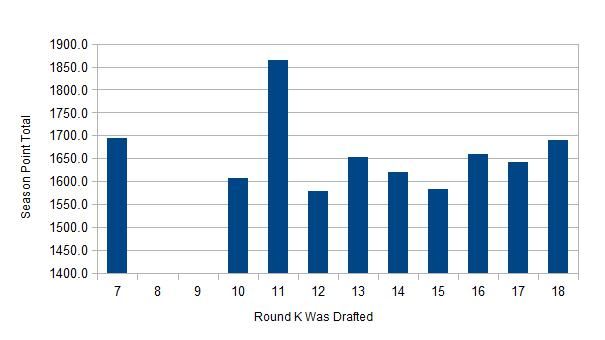 By looking at the averages of the point totals of all 180 Apex teams based on the round in which they drafted a kicker, it isn't readily apparent that owners that waited until the last round to pick their kicker had a decided advantage. In fantasy football, though, we must always consider sample size. In this set of data, there was only one example of  an owner that drafted a kicker in the 7th or 11th round. By only looking at the rounds with multiple examples, the picture becomes a bit more clear.
With multiple data points for each round, it's clear that Apex owners that waited until the last round to pick their kicker finished well ahead of their competition. Even if we include the two high scoring teams that drafted kickers in Rounds 7 and 11, owners that waited until the end to draft a kicker finished almost 34 points better than the rest of the field, on average, over the course of the regular season. In a league where wins are awarded for beating the weekly league average, picking up a couple of points a week can easily be the difference between making the fantasy playoffs or not.


Summary
For the advanced fantasy owner, the kicker is often seen as a nuisance, and waiting until the last round to pick one isn't even a discussion. If you had it your way, they wouldn't even exist in the fantasy world. Because most of us often play with friends and family who don't live and breathe fantasy football, we can embrace the kicker and the added luck they bring, and even use it to our advantage.
Although one season of data isn't definitive proof of when it's optimal to draft a kicker, we do have evidence that there is some advantage to having league mates that fill the K position too early. The reasons that these teams are inferior likely go beyond the isolated act of picking a kicker early. That action is probably indicative of an owner that will leave a ton of value on the table for the savvy owner (you), not just on draft day but throughout the season.
If we take the K off of fantasy rosters, the inexperienced owner might accidentally take one of our late round heros, simply because he didn't have the opportunity to make this huge draft mistake that still keeps popping up in so many fantasy leagues.