We hear it every year in fantasy football circles: "He was so good when he actually played. If he just gets the chance, he'll be a star." In search of the next breakout player, fantasy owners will often look to players that shined in limited opportunities and target those players on draft day. When it comes to wide receivers, might a stat like fantasy points per target (FP/Target) predict future success?
Defining a Breakout Wide Receiver
Going back 10 seasons, I sought out every wide receiver that was targeted at least 32 times, or twice per game, and finished the season with above average FP/Target.* From that group, all receivers that never finished a season as an Apex fantasy starter (WR36 or better) were considered for the study. This gave us a total of 150 wide receivers over the last 10 seasons that might have been considered breakout candidates.
*The average FP/Target over the last 10 seasons is 1.61 PPR points. Season to season FP/Target ranged from 1.56 to 1.63 PPR FP.
Of those 150 potential draft day targets, just 22 receivers became first time fantasy starters the season after showing promise in limited playing time. What, if anything, did these 22 breakout players have in common? Let's take a look.
Season-to-Season Fantasy Points Per Target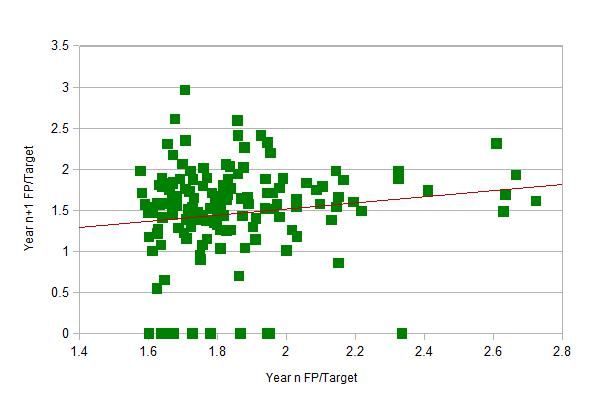 As shown by the somewhat flat trend line, there is almost no direct correlation between FP/Target from one year to the next, when considering players that have not yet been fantasy starters. Intuitively, this makes sense. If a wide receiver has not broken out as a fantasy starter, their season long sample size is probably relatively small. A few big plays or games can boost the FP/Target of these players, and they are more likely to regress to the mean the following season than sustain their success.
Fantasy Points Per Target, Next Season Fantasy Scoring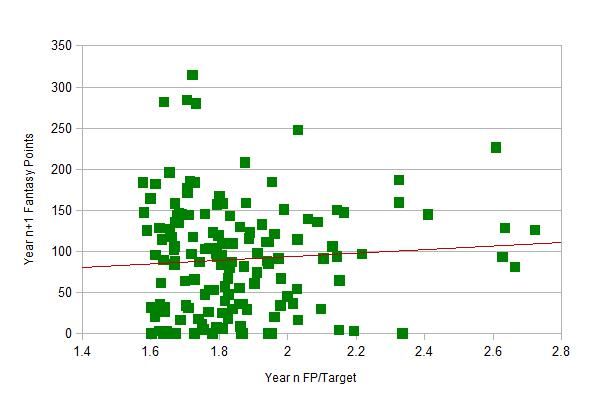 Receivers that had very high (2.3 or better) FP/Target in year n had a better chance at fantasy relevance the following year than wideouts that were just above average. There are too few examples of extraordinary FP/Target to draw any definitive conclusions for the next season, though.
Overall, there is a relatively even distribution of total fantasy points in the subsequent season. A player with above average FP/Target is just as likely to score less than 10 PPR FP the following year as they are to become a fantasy starter.
Targets and Next Season Fantasy Scoring
There is some relationship between total targets in the season that a receiver registered strong FP/Target numbers and their fantasy points the following season, but the correlation is very weak.
At this point, you're probably wondering why we would look to FP/Target as a predictive measure if there's virtually no evidence that suggests a breakout wide receiver. If we look at total targets, though, there is some hint of potential success if a receiver had both relatively high targets and FP/Target.
Because only 3 wide receivers over the last 10 years saw over 90 targets and above average FP/Target before having a breakout season, they were grouped in the 80+ target category.
The total number of breakout receivers in relation to total targets doesn't tell us much, but if we look at percentage of breakout players from each group, we finally get some clarity.
Receivers that were targeted over 60 times were twice as likely to breakout the following season as those with 32 to 60 targets. As a whole, the players with above average FP/Target and 60+ targets became fantasy starters the following year 18.5% of the time, while those with less than 60 became staples in fantasy lineups just 9.4% of the time.
Conclusion
When combined with total targets, fantasy points per target can give us an idea of which wide receivers that we might seek on draft day who may be flying under the fantasy radar. A lot of players show promise with minimal playing time, but if the sample size is very small we are likely witnessing an unsustainable outlier.
2013 Fantasy Point Per Target All Stars
| Player | Fantasy Points Per Target | Targets |
| --- | --- | --- |
| Denarius Moore | 1.69 | 86 |
| Brandon LaFell | 1.68 | 85 |
| Marlon Brown | 1.75 | 82 |
| Rueben Randle | 1.74 | 78 |
| Cordarrelle Patterson | 1.94 | 77 |
| Terrance Williams | 1.95 | 74 |
| Doug Baldwin | 2.17 | 73 |
| Tavon Austin | 1.86 | 67 |
| Kenny Stills | 2.54 | 50 |
| Leonard Hankerson | 1.71 | 50 |
| Jerrell Jernigan | 1.82 | 46 |
| Tiquan Underwood | 2.00 | 46 |
| Brandon Gibson | 1.87 | 43 |
| Earl Bennett | 1.87 | 43 |
| Jarius Wright | 2.03 | 43 |
| Justin Hunter | 1.84 | 42 |
| Jermaine Kearse | 2.07 | 38 |
| Brian Quick | 1.72 | 35 |
| Marquise Goodwin | 1.96 | 32 |