Last week I took a look at how fantasy owners can properly use fantasy points per target (FP/t) to predict breakout wide receivers. I ran a similar analysis on tight ends, to see if there were any similarities among tight ends that showed promise in limited opportunity in one year and broke out as fantasy starters the following season.
Defining A Breakout Tight End
As with wide receivers, I went back 10 seasons and examined all tight ends that saw at least 32 targets in a season and finished with above average FP/t* that given year.  Any of those tight ends that had never finished a season as a fantasy starter (TE12 or better in Apex Leagues) was considered a breakout candidate, giving us a sample of 59 tight ends.
*The average FP/t for tight ends over the last 10 season is 1.66 PPR FP.  Season to season averages ranged from 1.57 to 1.76 FP/t.
Of our 59 breakout candidates, 11 tight ends (roughly 19%) became fantasy starters the season after showing some promise with relatively little volume. Just like wide receivers, tight ends with breakout potential showed almost no direct correlation when it came to FP/t and fantasy success the following season, as shown below.
Season-to-Season Fantasy Points Per Target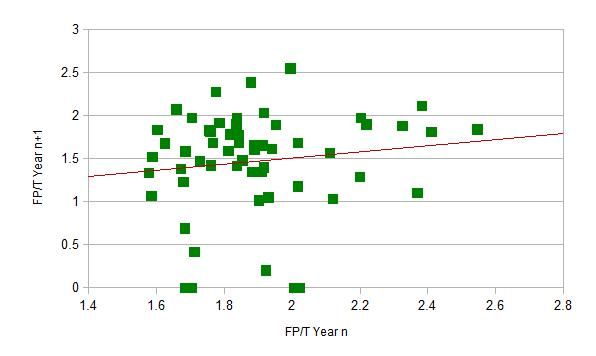 Fantasy Points Per Target, Next Season Fantasy Scoring
Unlike wide receivers, though, there was no clear trend among tight end breakout candidates when it came to overall targets one year, and their ascent to fantasy starter the next. Here's a look at how many potential breakout tight ends became fantasy starters, broken down by targets:
| Targets, Year n | Number of Tight Ends | Number of Starters, Year n+1 | % of starters, Year n+1 |
| --- | --- | --- | --- |
| 32-39 | 25 | 4 | 16.0% |
| 40-49 | 12 | 1 | 8.3% |
| 50-59 | 10 | 5 | 50.0% |
| 60+ | 12 | 1 | 8.3% |
With no clear indicators from football statistics as to which promising tight ends will become fantasy starters, I looked at when in their careers tight ends had their breakout season.
Of the 11 tight ends that actually became fantasy starters, 10 broke out in seasons 2 or 3 of their career. Over the last 10 seasons, 39 tight ends showed breakout potential in their 3rd year or later, but only Delanie Walker in 2013 was able to follow up with a TE1 season. The percentage of potential breakout tight ends that became starters, broken down by career year, further highlights the added promise of the younger players.
50 % of the tight ends (10 out of 20) that showed breakout potential in their first or second season became fantasy starters the very next year. In a game that's very difficult to predict season long success, I like those odds.
Conclusion
When it comes to tight ends, we can use fantasy points per target as one measure, and guess early in their careers if they are going to be viable fantasy options down the road. Players that show potential in their first two seasons have a very good chance at becoming fantasy starters, while tight ends that have a decent year later in their careers will almost never break into the TE1 category.
What This Means For 2014
In 2013, 7 tight ends that had never finished a season as a TE1 recorded above average FP/t. 3 of those tight ends were rookies, while the other 4 were already in their third or fourth season. Of the group listed below, Jordan Reed and Zach Ertz look to be in the best situations to break into the fantasy starter ranks.
| Player | Years in League | Fantasy Points Per Target |
| --- | --- | --- |
| Jordan Reed | 1 | 1.94 |
| Tim Wright | 1 | 1.86 |
| Zach Ertz | 1 | 1.88 |
| Lance Kendricks | 3 | 1.78 |
| Jeff Cumberland | 4 | 2.25 |
| Clay Harbor | 4 | 1.86 |
| Jim Dray | 4 | 1.80 |